JCP Books, LLC
m/m paranormal & horror
Weird and wonderful ebooks you'll want to read again and again!
find a book
Enter your own search term:
Loading
Merchandise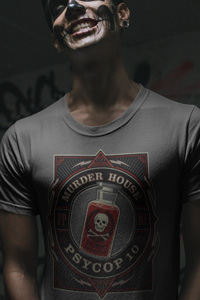 Check out JCPBooks Merchandise, including fundraiser T-Shirts for the Murder House audiobook
Questions?
See our FAQ page!
PsyCop #8: Skin After Skin
Skin after Skin by Jordan Castillo Price
Series: PsyCop #8
Length: Novel -136,000 words
Cover artist: Jordan Castillo Price - see larger cover
ISBN: 978-1-935540-93-9, 978-1-935540-92-2
$4.99

Buy Skin After Skin ebook at:
Fierce. Audacious. Independent. Curtis Ash can't be bothered to settle down. He's too busy enjoying his cushy job as a high-paid stylist, caught in a whirlwind of hookups, parties, and obscenely priced cocktails.
The only snarl in an otherwise charmed life is the salon's hotshot colorist, Red Turner.  Not only does Red put the whammy on customers and rake in all the big tips, he's oblivious to Crash's flirtation. But there will be plenty of time to win him over…so Crash thinks.
Thanks to his refusal to trust his gut, Crash not only tanks his career—he allows the one man who truly holds his interest to slip away. While he insists he doesn't need a relationship to complete him, would sharing his life with someone really be so bad? 
Skin After Skin is a sweeping saga that begins two years before Among the Living and ends just after Spook Squad. Experience PsyCop like you've never seen it before, through Crash's eyes. Discover new facets of characters and events from the span of the entire series and beyond, all from the viewpoint of an extroverted empath.
Content advisory: one scene includes potential dubious consent.
PsyCop Ebooks
#1: Among the Living
What good is being a psychic detective if your murder victims aren't talking?
#1.1: Thaw
A heartwarming glimpse at a cold winter's day
#2: Criss Cross
Mysterious messages from Lisa lead Vic on a wild ride.
#2.1 Striking Sparks
Andrew's got cold feet about his upcoming wedding. He figures a palm reading is just the ticket.
#2.2 Many Happy Returns
It's the holiday season at SaverPlus, and customers have become incredibly demanding.
#3: Body & Soul
Three missing people. No bodies. No ghosts. At least the case gets Vic out of an awkward family dinner.
#3.1: Stroke of Midnight
For a PsyCop, missing out on festivities to process a crime scene is all in a day's (or night's) work.
#4: Secrets
Is someone watching Vic's every move, or is he imagining things? Just because you're paranoid doesn't mean they're not out to get you.
#5: Camp Hell
Vic delves into his repressed memories of Camp Hell and dredges up more than he bargained for.
#6: GhosTV
Lisa's gone missing, and Vic and Jacob head to PsyTrain for some answers.
#7: Spook Squad
Victor has been avoiding the exorcism he owes the FPMP. Now it's time to pay up.
#8: Skin After Skin
A sweeping look at the PsyCop series from Crash's empathic point of view
#9: Agent Bayne
Victor might be through with the Chicago PD, but is he ready for the FPMP?
PsyCop Briefs: Volume 1
Join Vic and Jacob off the clock in 20 PsyCop shorts
MORE WICKEDLY WONDERFUL TALES...