JCP Books, LLC
m/m paranormal & horror
Weird and wonderful ebooks you'll want to read again and again!
find a book
Enter your own search term:
Loading
Merchandise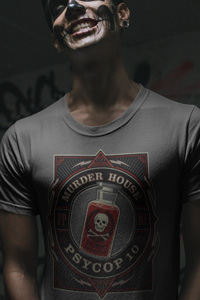 Check out JCPBooks Merchandise, including fundraiser T-Shirts for the Murder House audiobook
Questions?
See our FAQ page!
PsyCop #1.1: Thaw
Summary
As a psychic homicide investigator, Victor Bayne doesn't get much time to relax. Thaw offers a rare glimpse of him off the clock. Heard of the PsyCop series, interested in m/m fiction, but never tried it? Take a taste of Victor and his sexy boyfriend, Jacob, whose smoldering good looks threaten to melt the ice rink where they're skating.

This flash fiction does stand alone and may be enjoyed without reading the series.
Thaw Audiobook
Now in audio, narrated by Gomez Pugh.
View Larger Cover
Right-click to download MP3, left-click to play - free (8 minutes)

Find the entire PsyCop series in audio too!
Excerpt
I'm the last guy in the world who cares about sports, whether we're talking about the Cubs, Sox, Bulls or Bears, or for that matter anything even remotely athletic. So I was a little surprised when Jacob suggested that we take a trip downtown to go ice skating. But nowhere near as surprised as he was when I told him I thought it was a great idea.
What Jacob didn't know was that I'd played pee-wee hockey the winter I was eleven. (I didn't give a rat's ass about hockey. I had a crush on the goalie.) And what I didn't know was that the ice rink would look so cool after sunset. All the bare trees along Michigan Avenue had been wrapped in white Christmas lights, and the whole Chicago skyline blazed behind them. Millennium Park was insanely cold, but it was gorgeous.
Jacob must have figured out that I could skate before we even got out on the ice. Not only is he smart that way, but I'm about as easy to read as a billboard. Even so, he still spent more time checking me out than he did enjoying the scenery. It's weird, the way he stares. He doesn't stop when I catch him at it. He just smiles a little.

PsyCop Ebooks
#1: Among the Living
What good is being a psychic detective if your murder victims aren't talking?
#1.1: Thaw
A heartwarming glimpse at a cold winter's day
#2: Criss Cross
Mysterious messages from Lisa lead Vic on a wild ride.
#2.1 Striking Sparks
Andrew's got cold feet about his upcoming wedding. He figures a palm reading is just the ticket.
#2.2 Many Happy Returns
It's the holiday season at SaverPlus, and customers have become incredibly demanding.
#3: Body & Soul
Three missing people. No bodies. No ghosts. At least the case gets Vic out of an awkward family dinner.
#4: Secrets
Is someone watching Vic's every move, or is he imagining things? Just because you're paranoid doesn't mean they're not out to get you.
#5: Camp Hell
Vic delves into his repressed memories of Camp Hell and dredges up more than he bargained for.
#6: GhosTV
Lisa's gone missing, and Vic and Jacob head to PsyTrain for some answers.
#7: Spook Squad
Victor has been avoiding the exorcism he owes the FPMP. Now it's time to pay up.
#8: Skin After Skin
A sweeping look at the PsyCop series from Crash's empathic point of view
#9: Agent Bayne
Victor might be through with the Chicago PD, but is he ready for the FPMP?
PsyCop Briefs: Volume 1
Join Vic and Jacob off the clock in 20 PsyCop shorts
MORE WICKEDLY WONDERFUL TALES...