JCP Books, LLC
m/m paranormal & horror
Weird and wonderful ebooks you'll want to read again and again!
find a book
Enter your own search term:
Loading
Merchandise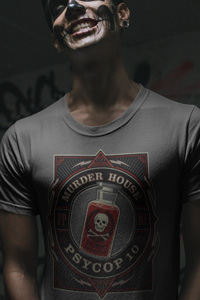 Check out JCPBooks Merchandise, including fundraiser T-Shirts for the Murder House audiobook
Questions?
See our FAQ page!
PsyCop #1.1: degel (Thaw) French
Dégel by Jordan Castillo Price
Translated by: Terry Milien
Series: PsyCop #1.1
Length: Short Story - 1200 words - 4 page PDF
Cover artist: Jordan Castillo Price - see larger cover
1st electronic French edition
gratis at Smashwords

le Sommaire
En tant qu'inspecteur psi aux affaires d'homicides, Victor Bayne n'a pas beaucoup de temps à lui. Dégel vous offre un rare aperçu de sa vie en dehors des heures de service. Vous avez entendu parler de la série PsyCop, mais ne l'avez pas encore essayée ? Voici pour vous un avant-goût de Victor et de son petit-ami le séduisant Jacob, dont les regards de braise risquent bien de faire fondre la patinoire sur laquelle ils se trouvent.
Série PsyCop
Thaw english Audiobook
Now in audio, narrated by Gomez Pugh.
View Larger Cover
Right-click to download MP3, free (8 minutes)

Play audiobook here in your browser:
Find the entire PsyCop series in audio too!
PsyCop English Ebooks
#1: Among the Living
What good is being a psychic detective if your murder victims aren't talking?
#1.1: Thaw
Cold hands, warm heart.
#2: Criss Cross
Mysterious messages from Lisa lead Vic on a wild ride.
#2.1 Striking Sparks
Andrew's got cold feet about his upcoming wedding. He figures a palm reading is just the ticket.
#2.2 Many Happy Returns
It's the holiday season at SaverPlus, and customers have become incredibly demanding.
#3: Body & Soul
Three missing people. No bodies. No ghosts. At least the case gets Vic out of an awkward family dinner.
#3.1: Stroke of Midnight
For a PsyCop, missing out on festivities to process a crime scene is all in a day's (or night's) work.
#4: Secrets
Is someone watching Vic's every move, or is he imagining things? Just because you're paranoid doesn't mean they're not out to get you.
#5: Camp Hell
Vic delves into his repressed memories of Camp Hell and dredges up more than he bargained for.
#6: GhosTV
Lisa's gone missing, and Vic and Jacob head to PsyTrain for some answers.
#7: Spook Squad
Victor has been avoiding the exorcism he owes the FPMP. Now it's time to pay up.
#0.1: Inside Out
(Takes place before Among the Living, but best to read it later) The first time Jacob saw Vic, he was covered in red.
#6.1: In the Dark
Halloween is supposed to be fun.
MORE WICKEDLY WONDERFUL TALES...