JCP Books, LLC
m/m paranormal & horror
Weird and wonderful ebooks you'll want to read again and again!
find a book
Enter your own search term:
Loading
Merchandise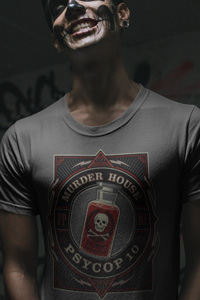 Check out JCPBooks Merchandise, including fundraiser T-Shirts for the Murder House audiobook
Questions?
See our FAQ page!
PsyCop #2.3: Mind Reader
Mind Reader by Jordan Castillo Price
Series: PsyCop #2.3
Length: Short Story - 1700 words - 6 page PDF
Cover artist: Jordan Castillo Price - see larger cover
Available in the collection PsyCop Briefs: Volume 1:
And in paperback at Amazon
Summary
Fascinating things can be learned on a field trip.

Crash has something to prove to one of his internet colleagues. Luckily he knows a level-five medium who can debunk the theory that mummification ties a spirit to the material plane.

Vic is perfectly willing to go to the museum with his lover's ex-boyfriend, but it seems like nothing he says or does will satisfy Crash.
Mind Reader is set between books 2 & 3 in the PsyCop series.
Excerpt
I leaned over the display case and stared down through the glass.

"Pretty messed up," Crash said.

I thought for a second that he was reading my mind, but then I realized he was talking about the display. I shrugged. The mummified babies were just some brown, withered husks. I'd seen worse, lots worse.

"What does it say about a culture, that they're so obsessed with their dead that they go through all this preparation and ritual to preserve the body?"

I glanced up at a small sign on the wall I'd noticed that said something about it. "They, uh, thought they'd need this stuff in the afterlife. Just being thorough, I guess."
PsyCop Ebooks
#1: Among the Living
What good is being a psychic detective if your murder victims aren't talking?
#2: Criss Cross
Mysterious messages from Lisa lead Vic on a wild ride.
#2.1 Striking Sparks
Andrew's got cold feet about his upcoming wedding. He figures a palm reading is just the ticket.
#2.2 Many Happy Returns
It's the holiday season at SaverPlus, and customers have become incredibly demanding.
#3: Body & Soul
Three missing people. No bodies. No ghosts. At least the case gets Vic out of an awkward family dinner.
#3.1: Stroke of Midnight
For a PsyCop, missing out on festivities to process a crime scene is all in a day's (or night's) work.
#4: Secrets
Is someone watching Vic's every move, or is he imagining things? Just because you're paranoid doesn't mean they're not out to get you.
#5: Camp Hell
Vic delves into his repressed memories of Camp Hell and dredges up more than he bargained for.
#6: GhosTV
Lisa's gone missing, and Vic and Jacob head to PsyTrain for some answers.
#7: Spook Squad
Victor has been avoiding the exorcism he owes the FPMP. Now it's time to pay up.
#0.1: Inside Out
(Takes place before Among the Living, but best to read it later) The first time Jacob saw Vic, he was covered in red.
#6.1: In the Dark
Halloween is supposed to be fun.
PsyCop Paperbacks
PsyCop:Partners (contains Among the Living and Criss Cross) Amazon - Book Depository
PsyCop: Property (contains Body & Soul and Secrets) Amazon - Book Depository
Camp Hell Amazon - Book Depository
GhosTV Amazon - Book Depository
Spook Squad - Coming Soon
MORE WICKEDLY WONDERFUL TALES...