JCP Books, LLC
m/m paranormal & horror
Weird and wonderful ebooks you'll want to read again and again!
find a book
Enter your own search term:
Loading
Merchandise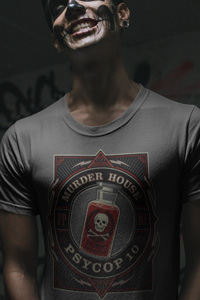 Check out JCPBooks Merchandise, including fundraiser T-Shirts for the Murder House audiobook
Questions?
See our FAQ page!
Post Mortem
Post Mortem by Jordan Castillo Price
Series: Standalone
Length: Short Story - 4000 words - 18 page PDF
Cover artist: Jordan Castillo Price - see larger cover
ISBN: 978-1-935540-69-4
$.99
Find Post Mortem at the following places:
Amazon - Smashwords (many file types) - iTunes
Summary
Arthur Mubarek is a prat—at least according to his ex-boyfriend. And if taking pride in his work, keeping his house tidy, and not pretending to enjoy a film just because everyone else is gushing over it makes him a prat, so be it. But the sympathy blind date he's been roped into is really a bit much. If only there were some way to get out of it.
The dreaded date is nearly upon him when a co-worker at the Royal Mail begs him to come downstairs and have a look at a mysterious parcel. While Arthur can't fathom why they'd ask a data analyst for help, he's eager for any excuse to dawdle, even if it's ridiculous...until he sees the box.
Excerpt
Equals sum A1 through A1133, and why was the damn cell throwing an error? Arthur Mubarek rubbed his eyes. Normally, finessing a spreadsheet was as easy for him as falling off a bicycle, but not now. He'd been out of sorts all week. On Monday he missed his bus. On Tuesday he brought the wrong container and ended up with nothing but gravy for lunch. By Friday, it was a shock he'd even made it to work showered, dressed, and breathing. Usually Arthur had a mind like a steel trap, but lately his attention had been diverted to the impending disaster of his upcoming double date. Opposite his ex. Who'd been the one to dump him, and now, evidently, presumed he was so pathetic he needed to be set up with any gay man who had a pulse.
A bit scrawny, but he's a nice enough bloke. Since everyone knows you're a right royal prat, it's not as if you can have your pick of the lot, can you?
Arthur glanced at the clock. Nearly five. Too bad he wasn't authorized for overtime, like anyone with a job in the private sector would be. Then he could call his condescending ex and cancel the whole mortifying evening. But the Royal Mail was as unlikely to approve overtime as they were to send Arthur to an Excel workshop that actually taught him anything he could bloody well use. While the overtime excuse would clearly be a lie, maybe there would be a way to cancel the date without going into too much detail. Maybe…if he texted his regrets.
He pulled out his mobile. Can't tear myself away—go on without me….
MORE WICKEDLY WONDERFUL TALES...