JCP Books, LLC
m/m paranormal & horror
Weird and wonderful ebooks you'll want to read again and again!
find a book
Enter your own search term:
Loading
Merchandise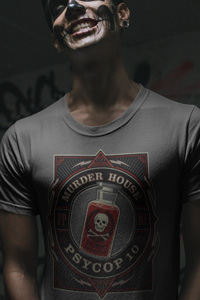 Check out JCPBooks Merchandise, including fundraiser T-Shirts for the Murder House audiobook
Questions?
See our FAQ page!
PsyCop Short: Many Happy Returns
Many Happy Returns by Jordan Castillo Price
Series: PsyCop Short (#2.2)
Length: Short Story - 2800 words
Cover artist: Jordan Castillo Price - see larger cover
ISBN:9781935540113

Many Happy Returns is out of print. However, you may download a complimentary copy to complete your PsyCop collection.
Summary

The holidays.

Food. Family.

Returns.

In this short story, Kenneth moonlights part time at SaverPlus to earn enough money to buy himself a state of the art computer system. He just wants to do his job and go home. But a sexy blond customer is looking for service, and he won't take "no" for an answer.

This PsyCop short can be read as a standalone!
Excerpt
Kenneth shot a plastic tab through the seam of a hideous sweater. He wasn't sure why he bothered. It wasn't as if the sweater hadn't been returned at least three times. Not that it was defective, per se. It was just so ugly that no one would ever want it.
But Kenneth was only there to earn enough money to buy a new computer. Part-time, seasonal work seemed harmless enough, or at least it had, the day he'd accepted the job of staffing the most obscure return desk in the least-known subbasement of SaverPlus.
He shot a plastic tag through a baseball cap, and wondered what type of person would return a hat. Someone with a head that was really big, or really small? He decided that he thought too much. Always had.
The clock clunked. It was an industrial piece of electronics, circa 1953, and it was far too retro to simply tick. Eight fifty-nine. He turned around and looked at the piles of clothes that had accumulated during his shift. Time to fold up the ugly returns and punch his timecard.
Forty-two years old and punching a time clock. Kenneth tried not to spiral down into a haze of self-pity by distracting himself with another thought, since his brain was so insistent on thinking.
Flat screen monitor. Bluetooth keyboard. Relax. Breathe.
The sharp ring of a call bell sent images of new computer systems scattering to the edges of Kenneth's mind. He looked up at the return desk, startled, and found a man in a leather jacket with spiked blond hair leaning over the counter on both elbows, chewing gum. He smiled at Kenneth. More of a devilish smile than an expression of actual happiness.
"We're closed," Kenneth said. "They've shut the lights off."
The customer peeked back over his shoulder, as if something had snuck up on him while he was trying to get Kenneth's attention.
"Sure," he said. "But look, maybe you can do me a favor."
Kenneth resisted the urge to roll his eyes. He couldn't imagine what would prompt him to do a favor for a total stranger, particularly at this purgatory of a job, and especially at 9:01 pm.
"This shirt," the customer said, swinging a plastic bag onto the counter. "I need a large."
Kenneth sighed through his nose and reached into the bag. He had a big enough pile of returns. If he had the shirt in a large, he could scan them, swap them, and send the gum-chewer on his way.
He pulled the shirt onto the counter. It was, in Kenneth's opinion, the only decent shirt that SaverPlus carried. He owned three, himself.
"Whoa," said the customer, pointing. "You're wearing the same one." He levered himself up onto his palms, leaning over the countertop, into Kenneth's personal space. "That's pretty wild. Don't you think?"
"We haven't got this in a large," Kenneth said. "Not in black, anyway."
"But I need black," he said. "The shirt's from my mom. And she'll get all weird if I don't wear it the next time I see her."
"I'm sorry, sir...."
The customer snorted. "Call me Crash." He squinted at Kenneth's name tag. "Kenny."
Kenneth composed himself. Bluetooth. DVD-RW. Five hundred gig hard drive.
"These shirts are sold out in black large. They have been since November. If you'd like the shirt in mocha, I can do the exchange, but...."
"Gimme yours."
PsyCop Series
#1: Among the Living
What good is being a psychic detective if your murder victims aren't talking?
#2: Criss Cross
Mysterious messages from Lisa lead Vic on a wild ride.
#3: Body & Soul
Three missing people. No bodies. No ghosts. At least the case gets Vic out of an awkward family dinner.
#4: Secrets
Is someone watching Vic's every move, or is he imagining things? Just because you're paranoid doesn't mean they're not out to get you.
#5: Camp Hell
Vic delves into his repressed memories of Camp Hell and dredges up more than he bargained for.
#6: GhosTV
Lisa's gone missing, and Vic and Jacob head to PsyTrain for some answers.
#7: Spook Squad
Victor has been avoiding the exorcism he owes the FPMP. Now it's time to pay up.
#8: Skin After Skin
A sweeping look at the PsyCop series from Crash's empathic point of view
#9: Agent Bayne
Victor might be through with the Chicago PD, but is he ready for the FPMP?
#10 Murder House
An undercover gig turns up more than Vic ever imagined.
#11 Bitter Pill
There's a deadly new drug in town called Kick...and psychs find it irresistable
PsyCop Briefs: Volume 1
Join Vic and Jacob off the clock in 20 PsyCop shorts
MORE WICKEDLY WONDERFUL TALES...