JCP Books, LLC
m/m paranormal & horror
Weird and wonderful ebooks you'll want to read again and again!
find a book
Enter your own search term:
Loading
Merchandise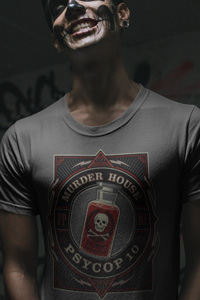 Check out JCPBooks Merchandise, including fundraiser T-Shirts for the Murder House audiobook
Questions?
See our FAQ page!
Bittersweet candy Kisses: Hue, Tint and shade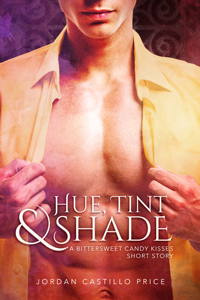 Hue, Tint and Shade by Jordan Castillo Price
Series: Bittersweet Candy Kisses #1
Length: Novelette - 12,875 words - 43 pages
Cover artist: Jordan Castillo Price - see larger cover

2017 second electronic edition. Previously released in the 2010 Petit Morts series.
Free with newsletter signup at Prolific Works
Summary
Asking for help can be a challenge for even the best of us, and so it's doubly intimidating for quiet, introverted Tommy Roth. An online exchange leads to a meeting with a psychic who assures Tommy that his naturally subdued aura is to blame for his timidity. Blue and violet tones are out, and shades of yellow and red are in!
Of course it's a bunch of baloney, and to make it worse, the intimidating shop clerk overheard the whole conversation.
Just when it seems like Tommy's life can't get any more dreary, a colorful character drops out of the sky. Nathan's so vivid, he seems to good to be true. Is he?
Excerpt
Sweets to the Sweet was empty. Once the Michigan Avenue lunch crowd left with their lattes and their fussy little truffles, it always turned into a ghost town for at least an hour. Tommy Roth opened the front door the bare minimum and slipped through, brushing his back against the doorjamb, and entered the store so stealthily that the tiny bell on the closer didn't even jingle.
The guy at the counter glanced up. Tommy tried to recall one of the many dull pleasantries he had stored up for use in an emergency meeting situation, some phrase that wouldn't sound too forced, but the clerk went back to cleaning his espresso machine rather than trying to ply him with hellos, and can-I-help-yous, and cold-enough-out-there-for-yous. Thank God.
Tommy's watch read twenty past two. Early. He was chronically prompt, if not early—and how excruciating it was to be early, to be the only one there, alone, sticking out like the proverbial sore thumb because he was painfully, absurdly early. Yet as horrific as being early was, Tommy imagined if he was ever late, he'd die of mortification, the ground would swallow him up, and it would be as if he'd never existed. And so it was preferable to be early. Awkward as that was.
"If you need help with…anything," the guy behind the counter said, "don't hesitate to ask." Tommy checked a flinch. The clerk had a velvety, soft voice, but he seemed young. Maybe even Tommy's age. Tommy risked a look. Hard to tell if the clerk was aiming for a certain style or not since he was currently wearing black and red chef's gear—complete with a name tag that read "Chance"—but he might have had a goth-thing going. Or he might have been naturally pale and dark-haired. With the world's prettiest cheekbones.
When Chance looked up again, Tommy turned away, but not quickly enough to help but notice the faint smile creeping over his expression.
"And take your time," he said. "I'm in no hurry."
"I don't need any…I'm meeting a…I'll just sit over here." Belatedly, Tommy realized he could have just said "thanks," but now it was too late, probably, and he'd sound even dumber if he did. He slid into a chair beside a filigreed café table that was hardly big enough to hold the napkin dispenser and the sugar bowl. He glanced behind the counter again. Chance was on a stepstool, pulling a box off a high shelf. He had a cute butt, and the way his apron strings were wrapped around his waist couldn't have emphasized it better. Damn. The whole stammery bashfulness thing was ten times as bad when Tommy was in the vicinity of a hot guy.
Tommy mouthed the word "thanks" and reminded himself it would sound completely appropriate as a reply. Or even "no, thanks" if the situation should warrant it. Two words. He should be able to remember that much. Right?
Luckily Chance kept himself busy cleaning up after the lunch rush and re-stocking things, which left Tommy blessedly alone with the sigh of the espresso machine and the waves of dark chocolate aroma that lulled him into a heady fugue state where he could forget for a moment about how early he was, and simply be.
Until the door jingled—ten minutes later, by Tommy's watch—and a woman with a graying bob bustled into the store. She was expansive, with broad movements, and she wore a fringed purple coat that might have been a shawl or might have been a sofa throw. "What a delightful place," she said to Chance, who smiled and inclined his head in return. "I can't believe I never noticed it before. It smells so rich I could gain ten pounds just by breathing the air."
"If you enjoy the smell, you should try the hot chocolate. It's not from a mix—I make it myself with single-origin cocoa from Bolivia. Very aromatic."
"That sounds wonderful."
The espresso machine let out an explosive gasp as Chance steamed the milk. Tommy tried to imagine himself having a similar exchange with the hot guy in the chef's gear, and failed. Utterly. His vocabulary of multisyllabic words was limited to terms such as "mortifying" and "excruciating." It did not include "delightful" and "wonderful."
Bittersweet Candy Kisses
Electronic omnibus edition Bittersweet Candy Kisses, released 2017
Hue, Tint and Shade by Jordan Castillo Price
Yellow is as yellow does.
Moolah and Moonshine by Jordan Castillo Price
If you ever go to France, watch out for those ticklers.
Spanish Fly Guy by Jordan Castillo Price
A new twist on liquid courage.
Pretty Ugly by Jordan Castillo Price
Beauty is in the eye of the beholder...usually.
One Less Stiff at the Funeral by Sean Kennedy
Chocolate makes everything better. Even a eulogy.
Wishink Well by Jordan Castillo Price
You can't get something for nothing.
Happily Neverafterby Jordan Castillo Price
All's well that ends well.
London Eye by Clare London
Give credit where credit is due.
Spirits and Second Chances by Sean Kennedy
The past can come back to haunt you.

Loose Change by Sean Kennedy
If there's one thing you can always count on, it's change.
Media Naranja (Other Half) by Clare London and Jordan Castillo Price
There's someone for everyone.
Immortal Coil by Jordan Castillo Price
Love is more than skin deep.
Reviews
Two Lips Reviews - "I found myself cheering each step Tommy took toward confidence and self respect, and hoping that opposites truly do attract as he became more and more entranced with the flamboyant Nathan."
Reviews by Jessewave - "Jordan's books always veer into the weird and wonderful which is why I love her writing."
Obsidian Bookshelf - "The contradictions that the author works into the familiar romance types are delightfully sly."
Elisa Rolle - "Even the main set of this brief romance, an old fashioned theatre, helps to give a strange atmosphere to the story, and the ending is both surprising than sweet..."
Well Read - "There's a delightful light touch to the tone of the writing which veers into the slightly weird later in the story. I was hooked and couldn't wait to get onto the next story in the collection."
Joyfully Reviewed - "Tommy is adorably introverted. As I waited for something to happen to him...Nathan sneaks in and steals his affections, which is not a surprise since Nathan oozes sex appeal."
MORE WICKEDLY WONDERFUL TALES...