JCP Books, LLC
m/m paranormal & horror
Weird and wonderful ebooks you'll want to read again and again!
find a book
Enter your own search term:
Loading
Merchandise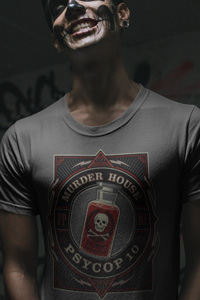 Check out JCPBooks Merchandise, including fundraiser T-Shirts for the Murder House audiobook
Questions?
See our FAQ page!
Petit Morts #14: Just Desserts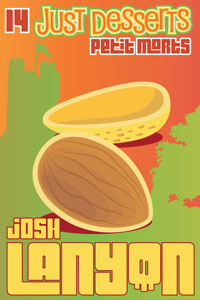 Just Desserts by Josh Lanyon
Series: Petit Morts #14
Release date: October 25, 2011
Length: Novelette - 15,720 words - 53 page PDF
Cover artist: Jordan Castillo Price - see larger cover
ISBN: 978-1-935540-31-1

JCP Books' edition of this title is out of print.
See http://joshlanyon.com for more info.
Summary
Broken in body and crippled in spirit, Ridge Baneberry sees death as the only way out. Not his death, of course—the death of his obnoxious cousin, Raleigh, the one who was responsible for the accident. It's not easy plotting the perfect murder from his wheelchair, but when Raleigh's body is eventually found, who's going to suspect a cripple? Ridge might not be able to get around so easily, but if there's one thing he has, it's time.

Then a painfully cheerful physical therapist named Tug shows up at his front door with an appointment book and an agenda. Tug's personality is equal measures of patience, optimism, and warm Georgia sunshine.

Since this Tug person won't take no for an answer, Ridge decides he might as well put him to good use. Almond candy would be the perfect camouflage for a lethal dose of cyanide, and Tug knows just where some gourmet chocolates can be found….
EXCERPT
Murder had its drawbacks of course, but once the idea came to Ridge, it was hard to get out of his mind.
It began with the argument over the cable bill. Raleigh objected to paying for cable when he was never home to watch TV or use the Internet. It didn't seem to dawn on him that the only reason Ridge was stuck home watching TV and surfing the net was because Raleigh had been driving the car that plowed into the tractor and left Ridge in a goddamned wheelchair.
Ridge reminded Raleigh of that fact—in words of one syllable so Raleigh could understand—and Raleigh turned the usual shades of red, white, and blue and then agreed to pay Comcall their exorbitant rates before he stormed out, leaving Ridge to sit at the study window watching his cousin fling himself in his Mazda MX-5 and blast off down the cracked and weed-rutted drive.
There was sour satisfaction to be had in winning their latest skirmish, but some of Raleigh's barbs had hit home. They worked their way in deep.
You're not a prisoner. It's your choice to sit here all day. If I was the one that got crippled, I'd try to show some dignity.
Ridge's sense of injustice swelled and burst. As luck would have it, he was working on an In Sympathy design at the time. He stared down at the purple and blue line drawing of a Black Prince water lily, and the idea seemed to float into his mind.
The idea that…the world would be a much better place without Raleigh Baneberry.
The world, in general—and Ridge's world, in particular.
For long moments he sat there, his hands shaking with adrenaline and anger, and he realized with a flash of dazzling clarity that he was right. Not only right but reasonable. Plus, this was something still within his power to achieve. He could do it. He could get rid of Raleigh.
No. No euphemisms. He'd had enough of greeting card sentiments.
He could kill Raleigh.
He could murder Raleigh.
Ridge tested the words, tasted the concept on the palate of his conscience. He found it delicious. Delicious after the months of indignity and pain. Mental pain, of course. Oh, blah, blah, blah. But more to the point, physical pain. Physical pain like Raleigh could never imagine, let alone bear.
In fact, for a few pleasant seconds, Ridge toyed with the fantasy of not killing Raleigh at all, simply leaving him somehow helpless and tethered and in excruciating, agonizing pain from his waking moment to the first troubled dream of the unending night.
But no. Totally unrealistic. Besides, Ridge wanted his inheritance. The inheritance that was now Raleigh's because he had murdered Uncle Beau when he crippled Ridge. Or as good as. It was when Uncle Beau had received the terrible news that his two nephews had been in a possibly fatal car crash that he'd suffered a massive heart attack and died that very night. Died with his new will—which was, in fact, his old will—unsigned.
And though Raleigh knew the old man had fully intended to make Ridge his heir once more—and even old Mr. Maurice of Maurice, Maurice & Morris had tried to shame him into doing the right thing—Raleigh had clung tight and tenaciously to the letter of the law. Raleigh had prevailed.
And he was going to die for it.

The Petit Morts Series
#1: Hue, Tint and Shade by Jordan Castillo Price
Yellow is as yellow does.
#2: Slings and Arrows by Josh Lanyon
It's a fine line between "secret admirer" and "stalker".
#3: Moolah and Moonshine by Jordan Castillo Price
If you ever go to France, watch out for those ticklers.
#4: Other People's Weddings by Josh Lanyon
Pulling off the perfect wedding can be murder.
#5: Spanish Fly Guy by Jordan Castillo Price
A new twist on liquid courage.
#6: Pretty Ugly by Jordan Castillo Price
Beauty is in the eye of the beholder...usually.
#7: Sort of Stranger Than Fiction by Josh Lanyon
They always say to write what you know.
#8: One Less Stiff at the Funeral by Sean Kennedy
Chocolate makes everything better. Even a eulogy.
#9: Critic's Choice by Josh Lanyon
It was a dark and stormy night. No, really, it was.
#10: Wishink Well by Jordan Castillo Price
You can't get something for nothing.
#11: Happily Neverafterby Jordan Castillo Price
All's well that ends well.
#12: London Eye by Clare London
Give credit where credit is due.
#13: Spirits and Second Chances by Sean Kennedy
The past can come back to haunt you.
#14: Just Desserts by Josh Lanyon
Pick your poison.
#15: Loose Change by Sean Kennedy
If there's one thing you can always count on, it's change.
#16: Media Naranja (Other Half) by Clare London and Jordan Castillo Price
There's someone for everyone.
#17: Immortal Coil by Jordan Castillo Price
Love is more than skin deep.
MORE WICKEDLY WONDERFUL TALES...