JCP Books, LLC
m/m paranormal & horror
Weird and wonderful ebooks you'll want to read again and again!
find a book
Enter your own search term:
Loading
Merchandise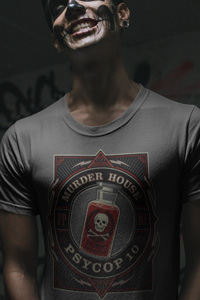 Check out JCPBooks Merchandise, including fundraiser T-Shirts for the Murder House audiobook
Questions?
See our FAQ page!
Petit MOrts #2: Slings and arrows
Slings and Arrows by Josh Lanyon
Series: Petit Morts #2
Length: Novelette - 14,150 words - 59 page PDF
Cover artist: Jordan Castillo Price - see larger cover
ISBN: 978-1-935540-05-2
JCP Books' edition of this title is out of print.
See http://joshlanyon.com for more info.
Summary
Carey Gardner receives an enormous box of chocolates from a secret admirer for Valentine's Day. Being a pretty straightforward kind of guy, Carey's not really comfortable with expensive presents from persons unknown, and he's less comfortable when his friends Ben and Heath tell him the story about a serial killer who once stalked the Hartsburg College campus.
Not that Carey really believes his secret admirer is up to anything very sinister—besides, he's already got enough problems falling for Walter Sterne, a brilliant but socially awkward grad student. Carey's friends are warning him against Walter, and even Walter isn't very encouraging.
Sometimes life really is like a box of chocolates.
Excerpt
It was a cold winter's night in Hartsburg.
A moon as dry and white as cork shone over the shadowed hills and dales of the Napa Valley, shone like a distorted clockface in the wine dark water of the Napa River. In the small town, shops were closing—window displays of red and pink hearts, overweight cupids—winking out. Down wide and shady streets, curtains and blinds were drawn across remodeled Victorian windows to keep out the chill rustling in the eucalyptus trees.
Over at the college, students walked in pairs or singly across the well-lit campus. The blazing buildings in Dorm Row pulsed with a variety of musical beats: The Flaming Lips vying with Lady Gaga for air space.
Carey Gardner, twenty-three, blond, cute, and brighter than he looked, pushed open the door to his dorm room on the third floor in Pio Pico House to find it, as usual, crowded with his roommate Sty's buddies watching TV.
"Yo, Bones!" Sty waved a beer in greeting.
"Yo," Carey responded, swallowing his irritation. The "Bones" joke was getting old. It was all getting old. For some reason Sty had taken Carey's change of major to anthropology personally. Sty was still clinging to his major in management and entrepreneurship, which, granted, was better than the physical education major of a lot of the other guys on the swim team.
"Where've you been?"
"Library."
"Dude."
There was pity in Sty's voice. Whatever. They'd started out friends— technically they were still friends—and they were rooming together by choice. Or maybe it was more habit. Either way, Carey was not being held prisoner in Suite E (commonly known as Cell Block 8).
The problem was, Sty was the same easygoing, fun-loving goofball he'd been as a freshman. And Carey…was not.
In order to graduate on time, Carey had to make up a couple of classes he'd blown off the first time around. His courseload was heavy and his sense of humor was not what it had once been.
"Make way for Dr. Leakey," Sty ordered, and the interchangeable frat boy sprawling on Carey's bed, shifted to the foot of it and gave Carey a glinting look from beneath his shaggy bangs.
Yeah. Like that was going to happen. Like Carey was going to lie down, sheep to the slaughter, in the midst of these assholes.
"You're blocking the TV, dude," someone else said irritably.
Carey dropped his backpack under his desk, well out of the way of temptation—although it was unlikely any of Sty's pals would be tempted by anthropology books. Or any books that didn't have plenty of pictures of naked girls.
"Have a beer." Sty used the remote to turn down the sound on the TV to the vocal disappointment of an audience that didn't want to miss one single second of Olympic ski jumping.
"Thanks, but I'm—" Carey hooked a thumb over his shoulder to indicate he was on his way out again—although it was nine-thirty now and he had to get up for swim practice at five. They both did.
"Wait, wait." Sty actually bothered to push upright. "Something came for you." He jumped up and grabbed a large flat box wrapped in distinctive red paper with a black ribbon.
"What is it?"
"It's from that shop in the town square."
"What shop?" Carey asked slowly.
Sty lifted the box and checked the gold label beneath. "Sweets to the Sweet."
"Candy? I didn't order that."
Five pairs of gleaming eyes zeroed on Carey. In fact, he thought he saw a pair of yellow eyes shining beneath the bed. The promise of free chocolate was not to be taken lightly in this jungle.

"Well, if you didn't order it, maybe it's a gift. Maybe your parents sent it."
"Or your girlfriend," another of the jerk-offs put in.
Carey ignored him. He reached for the box; Sty handed it over reluctantly.

"You're not going to eat that whole thing yourself?" he protested, as Carey turned to the doorway. "You're in training."
"So are you, dude. I'm saving you from yourself."
The Petit Morts Series
#1: Hue, Tint and Shade by Jordan Castillo Price
Yellow is as yellow does.
#2: Slings and Arrows by Josh Lanyon
It's a fine line between "secret admirer" and "stalker".
#3: Moolah and Moonshine by Jordan Castillo Price
If you ever go to France, watch out for those ticklers.
#4: Other People's Weddings by Josh Lanyon
Pulling off the perfect wedding can be murder.
#5: Spanish Fly Guy by Jordan Castillo Price
A new twist on liquid courage.
#6: Pretty Ugly by Jordan Castillo Price
Beauty is in the eye of the beholder...usually.
#7: Sort of Stranger Than Fiction by Josh Lanyon
They always say to write what you know.
#8: One Less Stiff at the Funeral by Sean Kennedy
Chocolate makes everything better. Even a eulogy.
#9: Critic's Choice by Josh Lanyon
It was a dark and stormy night. No, really, it was.
#10: Wishink Well by Jordan Castillo Price
You can't get something for nothing.
#11: Happily Neverafterby Jordan Castillo Price
All's well that ends well.
#12: London Eye by Clare London
Give credit where credit is due.
#13: Spirits and Second Chances by Sean Kennedy
The past can come back to haunt you.
#14: Just Desserts by Josh Lanyon
Pick your poison.
#15: Loose Change by Sean Kennedy
If there's one thing you can always count on, it's change.
#16: Media Naranja (Other Half) by Clare London and Jordan Castillo Price
There's someone for everyone.
#17: Immortal Coil by Jordan Castillo Price
Love is more than skin deep.

Reviews
Obsidian Bookshelf - "I found Slings and Arrows to be an enthralling novelette, dark, moody, and perfectly pieced together."
Two Lips - " Lanyon's at his best when he spices up his emotional angst with a touch of mystery, and Slings and Arrows certainly delivers. Lust takes a distant second place to infatuation, but it fits the tone of the story in a way that raging hormones just wouldn't."
Elisa Rolle - "...it's like a pull and push, like pulling the stone and hiding the hand, sometime I wanted to knock them on the head to make them see the true, but in the end, they were so endearing and sweet."
Reviews by Jessewave - "This book was pretty creepy and Walt didn't help matters by appearing to be cold and unfeeling, but because I like complex people I found him to be the most intriguing character in the story."
Well Read - "Carey has a charisma about him which I found appealing. Couple that with a new found sense of responsibility and he was irresistible. What I liked most was not just the character of Carey, but rather the whole unsettlingly creepy atmosphere of the story."
Joyfully Reviewed - "Combine Walter's social inadequacies with Carey's uncertainty and desire for Walter, and you get a slow-paced romance that is delightful to watch develop."
MORE WICKEDLY WONDERFUL TALES...