JCP Books, LLC
m/m paranormal & horror
Weird and wonderful ebooks you'll want to read again and again!
find a book
Enter your own search term:
Loading
Merchandise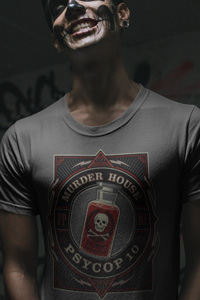 Check out JCPBooks Merchandise, including fundraiser T-Shirts for the Murder House audiobook
Questions?
See our FAQ page!
newest release: Brownie Points
Series: The ABCs of Spellcraft 9
Length: Novella, 30000 words
Cover artist: Jordan Castillo Price - see larger cover

$2.99 at many online retailers
Summary
As a Scrivener and a Seer, Dixon and Yuri possess many talents. Baking is not one of them.
But when a mysterious malady grips Yuri, the two of them must bargain, bluff, and bake their way through Pinyin Bay to find a cure.
Dixon is none too confident in the kitchen, but he'll stop at nothing if it means finding a cure for his grown man friend. Even if that means getting his hands dirty in the flour bin.
Yuri, naturally, makes a terrible patient, and their home remedy attempts are half-baked at best. Can he dredge up the patience to figure out what lies behind his bizarre affliction?
The ABCs of Spellcraft Series
Now in audio in The ABCs of Spellcraft Vol. 1, and Nick Hudson is a delight! - listen to a sample!
A quirky paranormal cozy romp
1. Quill Me Now
1.5. All that Glitters
3. Something Stinks at the Spa
The ABCs of Spellcraft Collection Vol. 1 (books 1-4) in Audiobook and Paperback
The ABCs of Spellcraft Collection, Volume 2 (novellas 5-7 in paperback) Also in Audio USA / UK
8. Present Tense (A Spellcraft Christmas Short)
10. Forging Ahead - September 16, 2021
11. Mayor May Not - October 21, 2021
Check out the Practical Penn T-shirts and mugs on the Merchandise page!
PsyCop - Other Half
Series: PsyCop 12
Length: Novel, 83000 words
Cover artist: Jordan Castillo Price - see larger cover

$4.99 at many online retailers
Summary
Victor Bayne never saw himself as husband material, but after an undercover stint as half of a married couple, he's willing to give it a shot. Jacob Marks was eager to settle down from the get-go, so once Vic popped the question, the wedding should've been smooth sailing.
But new evidence has come to light that casts a pall over the whole affair: decades of psychic experimentation and intrigue. Vic would hardly be shocked to discover he's been an unwitting test subject, but it's not his name on the roster.
It's Jacob's.
Planning a wedding on short notice is challenging enough without a covert investigation. Vic can deal with premarital counseling, floral emergencies, and the world's most annoying baker—but can he handle what he finds out about his other half?
Other Half FAQ
-audiobook by the incomparable Gomez Pugh is now live. Audible US | Audible UK
-the fundraiser T-shirts that make audio possible are on the Merchandise page
-not the last PsyCop novel
Support JCP's Audiobooks
Audio production can be expensive for an independent author. My audio projects take months, sometimes years, to even recoup their production costs.

Audiobooks are pricy to make. I have considered Patreon and decided it would take too much of my time away from my broader readership. Instead, I've come up with some alternative ways you can support the project.
Fundraiser T-shirts - Buy a PsyCop or Spellcraft T-shirt or other merchandise. T-shirt sales funded nearly HALF the production cost of Skin After Skin. That's huge!
Tip Jar - The way audiobook distribution is currently structured, the author makes less per sale than the middlemen. Not all of my audios earn back their production costs. If you're loving the audios and receive hours of entertainment from them, consider dropping a few bucks in the tip jar. It will add up!
Monthly Donation - If you're so inclined, you can do this through the tip jar, too!
Thaw Audiobook
Free audio, read by Gomez Pugh.
View Larger Cover
Download MP3, free (8 minutes)

Or simply play audiobook here in your browser:
Find Among the Living and Criss Cross in audio too!
Excerpt
I'm the last guy in the world who cares about sports, whether we're talking about the Cubs, Sox, Bulls or Bears, or for that matter anything even remotely athletic. So I was a little surprised when Jacob suggested that we take a trip downtown to go ice skating. But nowhere near as surprised as he was when I told him I thought it was a great idea.
What Jacob didn't know was that I'd played pee-wee hockey the winter I was eleven. (I didn't give a rat's ass about hockey. I had a crush on the goalie.) And what I didn't know was that the ice rink would look so cool after sunset. All the bare trees along Michigan Avenue had been wrapped in white Christmas lights, and the whole Chicago skyline blazed behind them. Millennium Park was insanely cold, but it was gorgeous.
Jacob must have figured out that I could skate before we even got out on the ice. Not only is he smart that way, but I'm about as easy to read as a billboard. Even so, he still spent more time checking me out than he did enjoying the scenery. It's weird, the way he stares. He doesn't stop when I catch him at it. He just smiles a little.
Thaw is also available as a free ebook!